An Indian-American Muslim woman named Amina Kausar has made a sensational claim on social media that film star Hrithik Roshan donated her Rs 1,00,000 to help revive the lives of 'victims' who were rendered homeless by bulldozers in areas like Khargone in Madhya Pradesh and Jahangirpuri in Delhi. After illegal constructions by Muslims were bulldozed in Uttar Pradesh, Madhya Pradesh, Gujarat and Delhi after the attack on Ram Navami and Hanuman Jayanti processions, a self-styled Miles2Smile Foundation is running a campaign on social media platforms, asking for help for people whose homes and shops have been razed by the administration.
Leftist radicals are sharing the link of this donation collection campaign on social media and many are donating generously. In the midst of this pay-our-sob-story campaign, the name of Hrithik Roshan as a donor has shocked the people of the country, as this was one name that had so far never figured in Bollywood's anti-Hindu campaigns unlike those of Shah Rukh Khan, Aamir Khan and even Akshay Kumar (thanks to his wife Twinkle Khanna).
Amina wrote, "In today's times when no artiste wants to stand with Muslims, thank you that you donated for this cause and started by setting an example before other actors."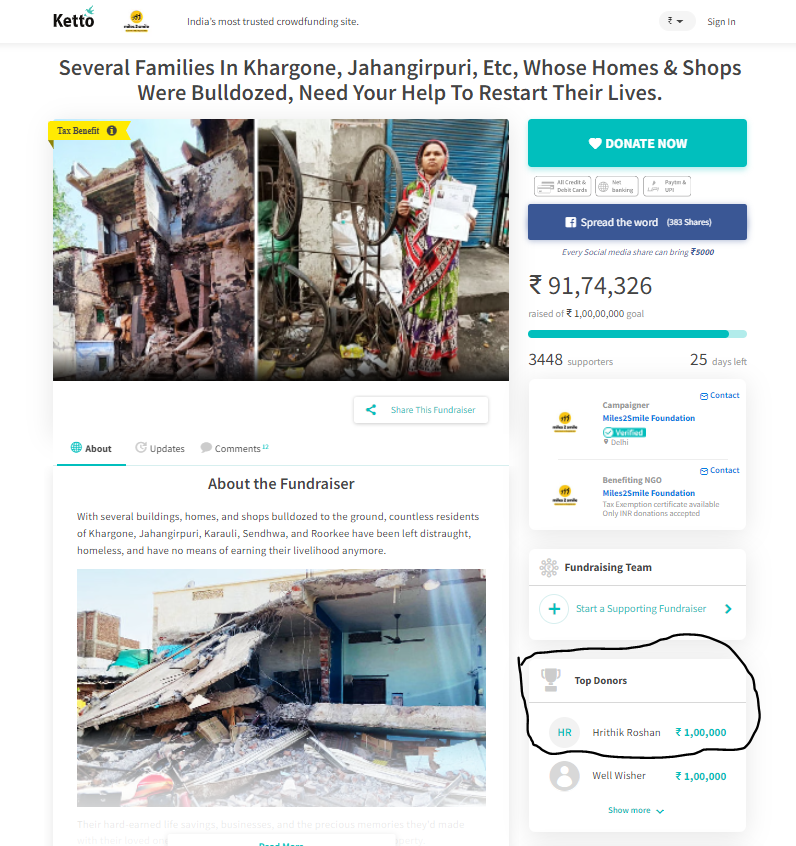 Along with her tweet, Amina shared a screenshot of the campaign started on Keto, with the name of Hrithik Roshan appearing on it among the top donors. The actor allegedly donated Rs 1 lakh for the 'cause'.
The total amount of donations received through this campaign has been shown to be Rs 91,74,000.
How true or false Amina's claim on social media is, is not yet confirmed. But on Amina's tweet, it can be seen that a user named Saba asks her whether she is sure the donor is Hrithik Roshan. Amina replies that it is Bollywood actor Hrithik Roshan indeed.
Hrithik Roshan has not made any comment on the issue. Sirf News does not vouch for the claim of Kausar; the real donor may well be an impersonator or a namesake of the actor.
The title of the campaign launched on the Keto platform has names of areas like Khargone and Jahangirpuri. The objective of the campaign is to raise money for people whose homes or shops were demolished in the aftermath of the attacks of Muslims on Hindus. Miles2SmileFoundation's campaign has got the support of about 4,000 people and, through them, almost Rs 1 crore has been raised.
The organisation that is running the donation-seeking campaign appears particularly interested in benefiting Rohingyas. Earlier, they had collected funds to settle Rohingya Muslims in the country.
The outfit had also opened a learning centre in Nuh, Haryana, and played an important role in a housing scheme for Rohingyas in that town. They also made arrangements to educate Rohingya students, imparting lessons in mathematics as well as the Qur'an.