Following the Narandra Modi government's order to ban 59 mobile applications with Chinese connections in India, TikTok, one of the affected apps, today claimed that it did not pass on any information about its users to any foreign government including that of the Communist Party of China. It said it would not do so in the future either.
"We have been invited to meet with concerned government stakeholders for an opportunity to respond and submit clarifications. TikTok continues to comply with all data privacy and security requirements under Indian law and has not sharedd any information of our users in India with any foreign government, including the Chinese government.
The company further said in the statement that it placed the highest importance on user privacy and integrity. TikTok had nearly 119 million active users in India and was among the top 10 apps on Google Play store and Apple App store.
Also read: Apps with Chinese connection banned in India: TikTok, UC Browser, 57 others
"TikTok has democratised the internet by making it available in 14 Indian languages, with hundreds of million of users, artists, story-tellers, educators and performers depending on it for their livelihood, many of whom are firt time internet users," the statement from TikTok India head Nikhil Gandhi said.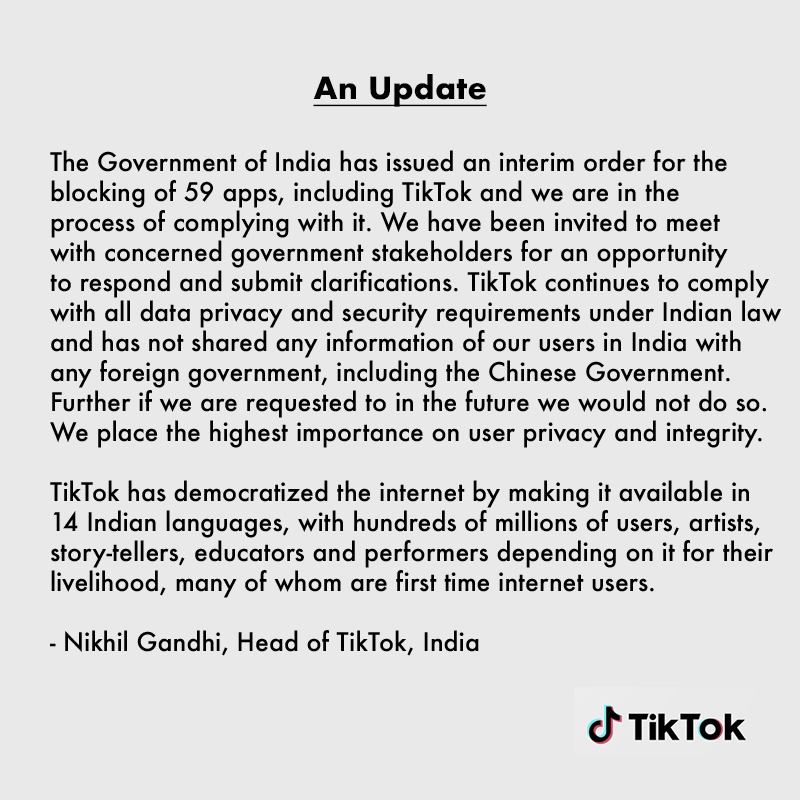 The Modi government had yesterday banned 59 Chinese mobile applications including TikTok, citing concerns that these are "prejudicial to sovereignty and integrity of India, defence of India, security of state and public order".
The move comes after weeks of discussions within the government that began before the border dispute with China flared up earlier this month, but was expedited in the aftermath of the deadly 15 June confrontation in Galwan Valley, officials said.
Also read: Intelligence agencies red flag use of 52 mobile apps with Chinese links
statement issued by the IT ministry, the ministry of home affairs, Indian Cyber Crime Coordination Centre and many citizens had asked for the "blocking of these malicious apps".
Other Chinese apps in the banned list are Club Factory, SHAREit, Likee, Mi Video Call (Xiaomi), Weibo, Baidu, Bigo Live and others.
Chinese apps banned by Modi govt
Modi government on 29 June said it was banning 59 mobile apps "which are prejudicial to sovereignty and integrity of India, defence of India, security of state and public order."
The statement read, "The Ministry of Information Technology, invoking it's power under section 69A of the Information Technology Act read with the relevant provisions of the Information Technology (Procedure and Safeguards for Blocking of Access of Information by Public) Rules 2009 and in view of the emergent nature of threats has decided to block 59 apps since in view of information available they are engaged in activities which is prejudicial to sovereignty and integrity of India, defence of India, security of state and public order. "
"Over the last few years, India has emerged as a leading innovator when it comes to technological advancements and a primary market in the digital space. At the same time, there have been raging concerns on aspects relating to data security and safeguarding the privacy of 130 crore Indians. It has been noted recently that such concerns also pose a threat to sovereignty and security of our country, " the statement further said.