Mahendra Singh Dhoni yesterday brought an end to all debates and discussions about his future in international cricket as he announced his decision to retire with a message for his fans on social media in what can be termed as 'trademark Dhoni style'.
Dhoni was digging into a plate of noodles sitting on the stairs of the Eden Gardens lobby. He had just hit a double hundred in a P Sen Trophy match playing for Shyambazar Club against George Telegraph on a sweltering afternoon. Between lazy bites, he indulged in some informal conversation with a few reporters and some very enthusiastic Bengal under-17 cricketers. It was May, 2005, and he had already become a star with a swashbuckling 148 against Pakistan in Visakhapatnam a month back, his only significant knock in nine One-day-Internationals (ODI) till then.
That day he hit 10 sixes and 20 fours in a 126-ball 207, opening the match with Wriddhiman Saha, who got 74. India had already got a taste of brute hitting, courtesy Virender Sehwag, but this was more ruthless, more relentless.
Dhoni had earlier quit Test cricket in 2014 after the Melbourne Test on the tour of Australia and had handed over ODI and T20I captaincy to Virat Kohli in January 2017.
"It is the end of an era," said BCCI President Sourav Ganguly. "What a player he has been for the country and world cricket. His leadership qualities have been something which will be hard to match, especially in the shorter format of the game. His batting in one-day cricket in his early stages made the world stand up and notice his flair and sheer natural brilliance. Every good thing comes to an end and this has been an absolutely brilliant one. He has set the standards for the wicketkeepers to come and make a mark for the country. He will finish with no regrets on the field. An outstanding career; I wish him the best in life."
In nearly 16 years at the highest level, Dhoni led India through its most successful era and has the 2007 T20 World Cup, 2011 ODI World Cup, and the 2013 Champions Trophy in his cabinet.
Dhoni's last ODI was his 350th for India, wherein he finished with a fighting 72-ball 50 against New Zealand at the 2019 World Cup which proved insufficient in the end. Dhoni, who finished with 10,773 runs at an average of 50.57 in ODIs, is the fifth Indian to surpass the 10k-run mark in the 50-over format. The wicketkeeper-batsman also has 229 ODI sixes ― the most for an Indian batsman.
Dhoni took over as India's ODI captain from Rahul Dravid in 2007 and has won 55 percent of the 200 games he captained the national side (110 wins, 74 defeats, 5 tied, 11 NR). His 200th ODI captaincy assignment came in the Asia Cup 2018 encounter against Afghanistan after Rohit Sharma ― the designated skipper for that tournament ― was rested for the game, which eventually ended in a tie.
In T20Is, Dhoni played two shy of a 100 games, scoring over 1617 runs at a strike rate of 126.13. More importantly, he led India to glory in the inaugural T20 WC in 2007. He has a 58.33 win percentage in this format, with 42 victories in 72 games as captain.
Besides being India's most successful captain in the limited-overs format, Dhoni also redefined wicketkeeping skills and earned the reputation of being one of the finest stumpers in the world in the last few years. With 829 dismissals across the three formats in international cricket (634 catches, 195 stumpings), Dhoni finishes third on the list of wicketkeepers with most dismissals, only behind Mark Boucher (998) and Adam Gilchrist (905).
Following Dhoni, buddy Raina announces retirement
Suresh Raina, one of India's prolific white-ball players in the last decade-and-a-half, announced his retirement from international cricket, following in the footsteps of his favourite captain and mentor Mahendra Singh Dhoni. Raina's message came minutes after Dhoni told his millions of fans "consider me retired" on his Instagram page. "It was nothing but lovely playing with you, @mahi7781 . With my heart full of pride, I choose to join you in this journey. Thank you India. Jai Hind," Raina posted on his Instagram page.
The 33-year-old is among the few who scored centuries across formats having played 18 Tests, 226 ODIs and 78 T20 Internationals with nearly 8000 international runs.
Tere jaisa yaar kaha: Fans react as Raina retires minutes after Dhoni's announcement
Suresh Raina played 220 ODIs, 78 T20Is and 18 Test matches for India. He was part of India's World Cup-winning team in 2011. He was also the first Indian to hit hundreds in all the three formats of the game.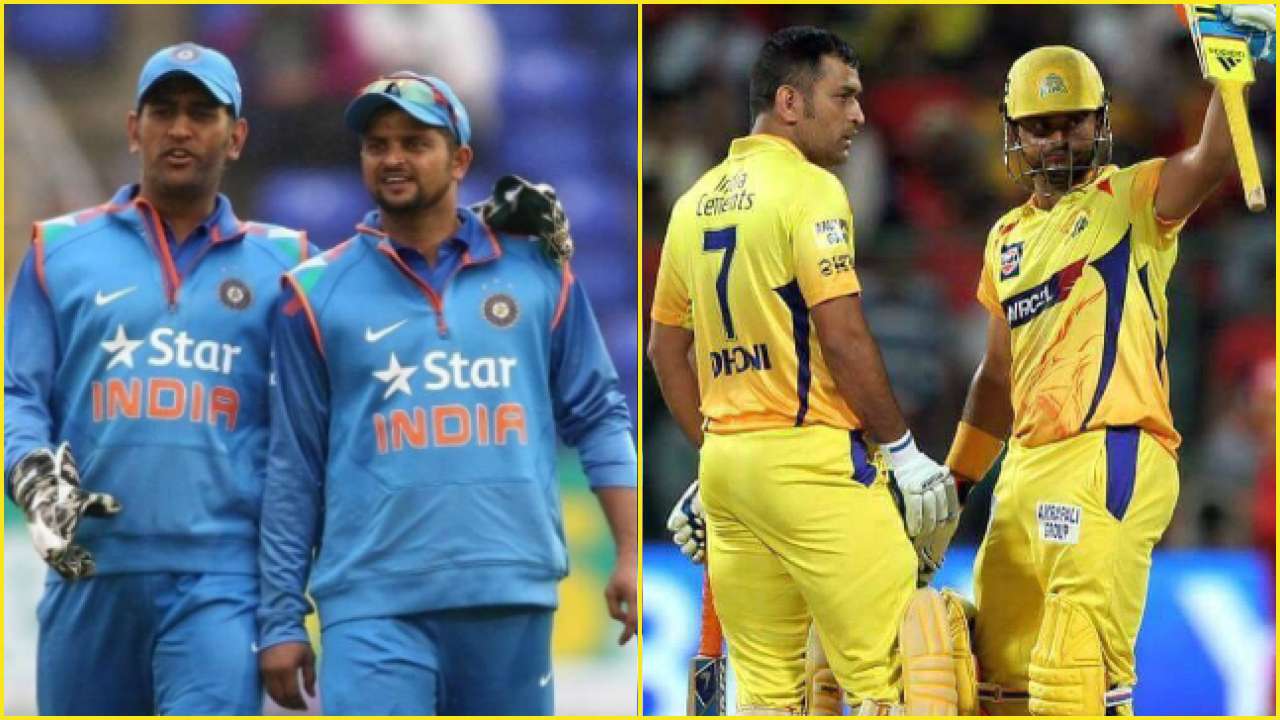 This comes after, MS Dhoni on Friday reunited with a few of his teammates, including vice-captain Suresh Raina, en route Chennai for their training camp in the lead up to Indian Premier League (IPL) 2020. Suresh Raina took to social media to share a photo of MS Dhoni with himself from their trip to Chennai in a chartered plane.
Dhoni: 5 world records the former India captain still holds
Dhoni's international retirement was always on the cards. The wicket-keeper batsman had not played any competitive cricket match ever since India's defeat to New Zealand in the 2019 World Cup semi-final against New Zealand at Manchester.
Dhoni, however, goes away as one of the greatest cricketers and captains of all time. Here are some of Dhoni's captaincy and batting and wicket-keeping world records.
Only captain to win three ICC tournaments
Dhoni led India to victory in the inaugural edition of World T20 in 2007, followed it with an ODI World Cup triumph in 2011 and then became the only captain to lift all three ICC tournaments by leading India to the Champions Trophy title in 2013.
Most international matches as a captain
Dhoni has captained India in 332 international matches – 200 ODIs, 60 Tests and 72 T20Is – which is a world record. Australia's Ricky Ponting has captained in 324 international matches. Dhoni is also the only captain to have led in 50+ international matches in each of the three formats of the game.
Most final wins as a captain (ODIs)
Dhoni has led India to 6 multi-nation ODI tournament finals and of which India have won 4 – making him the most successful captain in multi-nation ODI tournament finals. Overall, Dhoni has won 110 ODI ODIs as a captain, which is the second-most by any player. Ponting is in the first place on the list by winning 165 ODIs.
Most Not Outs in ODIs
MS Dhoni has remained unbeaten in 84 ODIs, which is again a world record. The second best is by former South Africa all-rounder Shaun Pollock, who has 72 not outs to his name. Out of the 84 times, Dhoni remained unbeaten in ODIs, 51 came while India were chasing and amazingly, the Men in Blue have emerged victorious in 47 of those while two matches were tied and they lost only 2 times.
Most stumpings in international cricket
Dhoni holds the record for inflicting most number of stumpings in international cricket. in 350 matches, Dhoni has 123 stumpings to his name. He is also the only wicket-keeper to have inflicted 100 international stumpings in his career. In terms of total dismissals, Dhoni is behind South Africa's Mark Boucher and Australia's Adam Gilchrist.
5 unique records held by Suresh Raina
The left-handed batsman had made his international debut against Sri Lanka in 2005. He finishes his international career with 18 Test, 226 ODIs and 78 T20I caps. On the occasions of his retirement, here's a look at five unique records held by Raina that will leave the fans in awe –
First Indian batsman to score centuries in all three formats
Raina was the first Indian batsman to score a century in all three formats. He scored his maiden ODI hundred against Hong Kong while his first Test ton came against Sri Lanka. In T20Is, Raina scored his first century against South Africa in 2010 T20 World Cup.
Most IPL caps
A regular member of Chennai Super Kings, Raina is also the most capped player in the league. He has played 192 matches so far and looks set to become the first player to play 200 IPL matches in the upcoming season.
Most consecutive matches in IPL
This record may surprise many but Raina didn't miss even a single IPL match from 2008 till the mid of IPL 2016. In the 9th edition, the former captain of Gujarat Lions was forced to miss a game to be with his wife for the birth of their first child. In 2018, Raina missed his first game for CSK after 158 matches.
First batsman to score 5000 IPL runs
In the opening game of IPL 2019, Raina became the batsman in the history of the league to score 5000 IPL runs. In less than a week, Virat Kohli too joined the elite list. With 5412 runs, he holds a lead of 44 runs over Raina.
A century on Test debut
Back in 2010, Raina became the 12th Indian batsman to score a century on Test debut. He failed to record another ton and he finished his career with 768 runs in the longest format. Raina's final Test was against Australia in 2014/15.