Saayoni Ghosh and veteran BJP leader Tathagata Roy are embroiled in a heated argument on Twitter over the small-time actress's depiction of a Shiva Linga wearing a condom. Ghosh had posted an image on Facebook where she showed a Shiva Linga wearing a condom. In an interview with a television channel later, Ghosh justified her act.
The BJP tweeted, tagging Ghosh, on 16 January morning. In the tweet, the former Tripura governor wrote that Ghosh was not the only one responsible for this "murkhota (stupidity)". The left and secularists of West Bengal have given this education to these people. They say, 'What's the big deal if some Hindus are killed and Hindu girls raped? It does not matter if a quarter of a million Hindus are homeless beggars! The perpetrators are humans too!"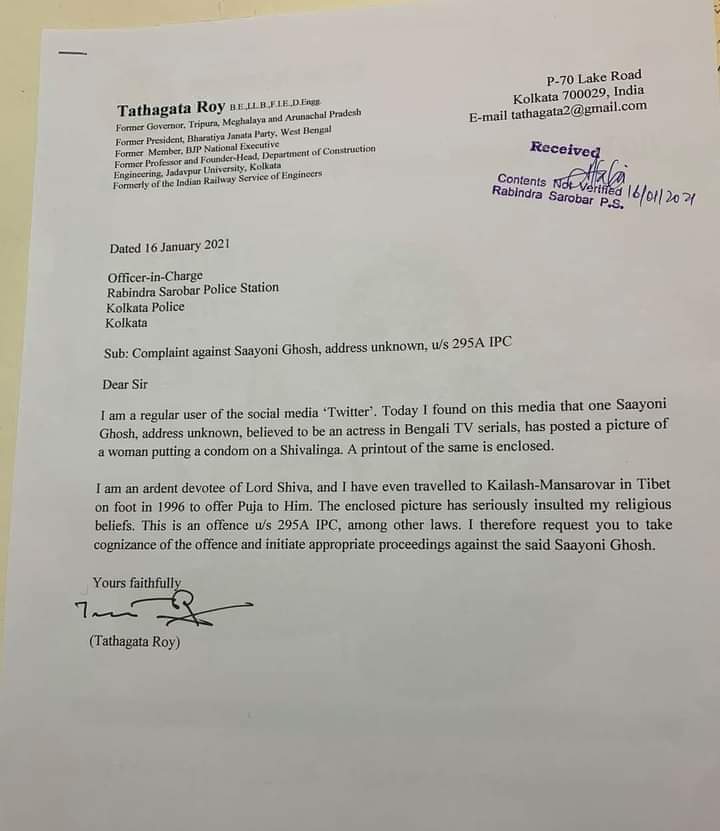 Ghosh responded with a tweet of her own: "Since many Hindus were killed during partition, killing Muslims now cannot be justified. You guys talk of Hindutva, but you don't know Hinduism. You will turn a Gandhi Colony into a Godse Colony, I am sure."
Former state BJP president Roy had tweeted, tagging Ghosh, at around 9 AM on 15 January. The actress tweeted back at 10.12 AM. Roy then warned Ghosh and wrote again, "Miss Sayani Ghosh, you have put a condom on a Shiva Linga, which is most sacred to Hindus like me. You have committed an offense under Section 295A of the Indian Penal Code (intentionally and maliciously hurting the religious sentiments of a community). These serious and non-bailable offences carry a fine as well as 3 years in prison. So be prepared to face the law."
At this stage, Ghosh realised things were going out of her control. She pleaded she was not a lesser Hindu, invoking Lord Rama! "Those who are distorting my quote and accusing me of having an anti-Hindu attitude, projecting a poor picture of me before the people of the state and the country, listen to me. Jai Sri Ram! I say the name of God with love… Now those who are trying to intimidate me are proving me correct. Sri Ram will judge me right."
Hereafter, BJP leader Tathagata Roy took legal action after the series of tweets above. He lodged an FIR against actress Saayoni Ghosh at the Rabindra Sarobar Police Station, Kolkata, alleging that she had hurt religious sentiments.