A whole lot of photographs from the ongoing farmers' agitation have emerged that expose the alleged plight of the members of this vocation. They include farmers driving or riding to Delhi in luxurious SUVs, Muslims wearing turbans to pass themselves off as Sikh farmers from Punjab and sight of activists who had been seen in previous venues of agitation that had nothing to do with agriculture — for example, the protest against the Hathras gang-rape or that against the CAA in Shaheen Bagh.
Filmmaker Vivek Agnihotri has shared the video of a Muslim man who utters profanities that expose his true identity. He reportedly delivered this hate speech in the presence of AAP MLA Amanatullah Khan to protest against the farm-related laws brought in by the Modi government. Forget the prime minister, this man is against Bharat Mata too!
There are screenshots of a Muslim user of Facebook, his make-up as a Sikh and a selfie taken before he takes a bus ride to join the proposed protest in Delhi.
Following is a collage of 'poor' farmers driving or riding SUVs, most of which cost Rs 30 lakh each, to the protest site.
In a video shot at Murthal of Haryana, however, a self-styled farmer, while sharing visuals of farmers approaching Delhi from Punjab, seeks pride in the ruffian-like behaviour of his comrades who have caused a "15 km long traffic jam":
Then there are instances where the Indian National Congress and anti-government journalists are seen supporting Khalistani separatists and extremists in the name of standing with the 'poor' farmer.
Shaheen Bagh's demonstrators, whose then rented cause of agitating against the amended citizenship law (CAA), are now protesting against the farm reform laws: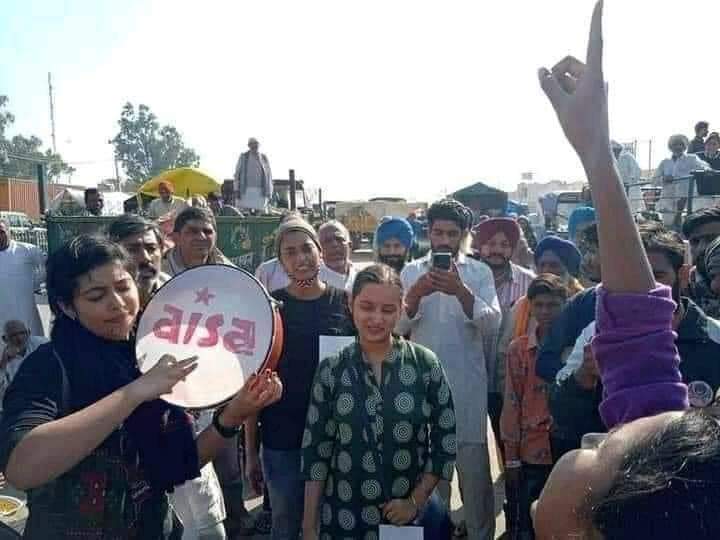 Meanwhile, Amit Malviya, who leads the BJP's IT cell, posted a video of actor Deep Sidhu, calling him a Khalistani who supports Bhindranwale, critics of the party ruling at the centre claimed Sidhu could be seen sharing the frame in a photograph with Prime Minister Narendra Modi.
A Khalistani in a crowd of protesters is even heard threatening to assassinate Prime Minister Narendra Modi like Indira Gandhi was assassinated. This man finds it as honourable as freedom fighter Udham Singh killing Michael O'Dwyer who had led British policemen in the Jallianwala massacre.