The Indian Railways will in a phased manner restart passenger train operations, which had started along with the nationwide lockdown in March-end, 12 May onwards. There will initially be 15 pairs (up and down journeys on the same route) of trains, the Ministry of Railways said today.
The ministry tweeted today: "Indian Railways has decided for the gradual resumption of passenger train services but existing Shramik special trains will continue to run as per current system on the request of the concerned state governments."
These passenger trains will ply as special trains from New Delhi station connecting Dibrugarh, Agartala, Howrah, Patna, Bilaspur, Ranchi, Bhubaneswar, Secunderabad, Bengaluru, Chennai, Thiruvananthapuram, Madgaon, Mumbai Central, Ahmedabad and Jammu Tawi.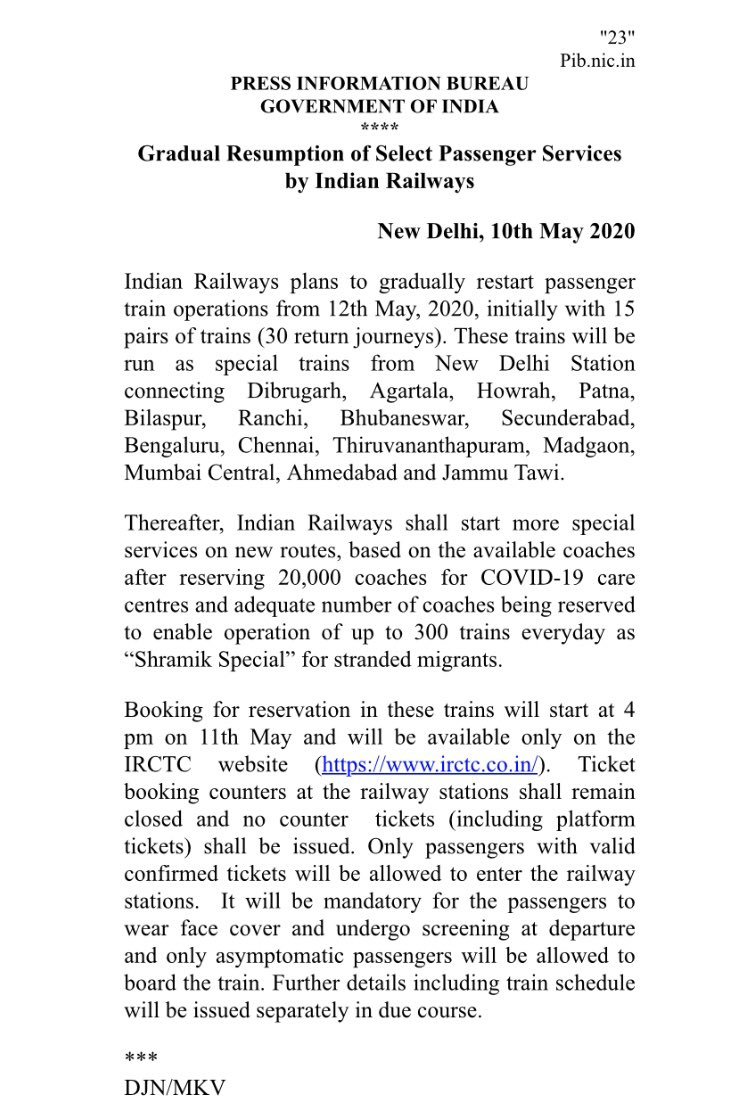 Thereafter, Indian Railways will launch more 'special' services on new routes, but that will depend on the available coaches after reserving 20,000 coaches for COVID-19 care centres. It will depend also on the adequacy of the number of coaches reserved to enable operation of up to 300 trains every day as Shramik Special for stranded migrants.
The booking for reservation in these trains will start at 4 PM tomorrow. One can make a booking for a passenger train only on the IRCTC website. Ticket booking counters at the railway stations will remain closed.
Indian Railways is, as of now, not issuing tickets for train travel or platform tickets at the counters. It will allow only passengers with valid confirmed tickets to enter the railway stations.
All coaches will be airconditioned. The fares will be equivalent of Rajdhani AC class fare.
Passengers will have to observe social distancing norms, given that the threat of coronavirus infection still looms large. It will be mandatory for them to wear masks and undergo screening at departure. The ticket checkers and railway security (RPF) will allow only asymptomatic passengers to enter the railway station and board the trains.
Passenger train operations had been stopped when the lockdown began on 22 March.