The government of Maharashtra has issued directions to extend the lockdown — with amendments — to enforce 'Mission Begin Again' for easing of restrictions and phase-wise opening till 31 August.
The state has crossed 4 lakh-mark in novel coronavirus cases since the outbreak.
The state government order stated certain relaxations and phase-wise opening in an attempt to contain Covid-19 spread in the state.
The announcement came after the union government's Unlock 3 guidelines announced earlier today, keeping in mind the activities permitted and those prohibited outside containment zones across the country.
According to the order, malls and market complexes without cinema halls, food courts and restaurants will be operational between 9 am and 7 pm from August 5.
All other activities including barbershops, salons, spas etc, which were allowed earlier, will also remain open in the current order. All non-essential shops will also remain open from 9 AM to 7 PM. Liquor shops will be allowed to operate if permitted for home delivery, or otherwise.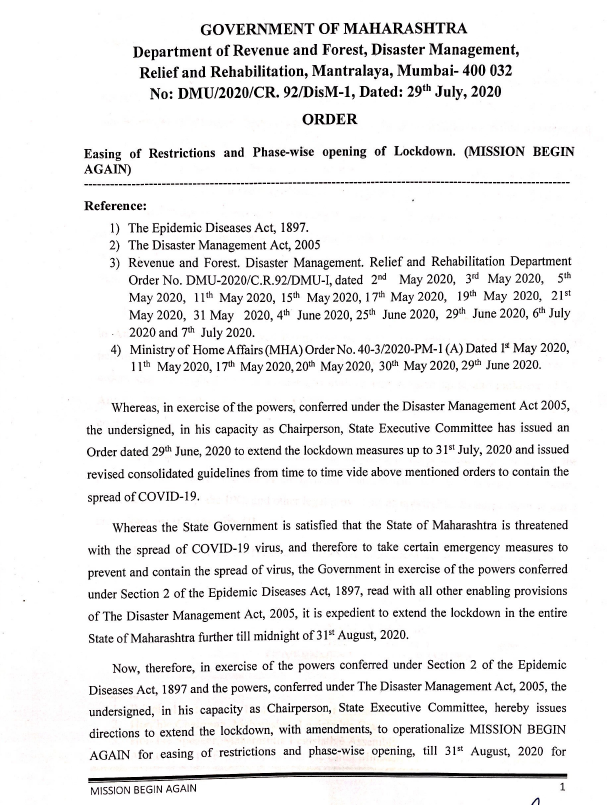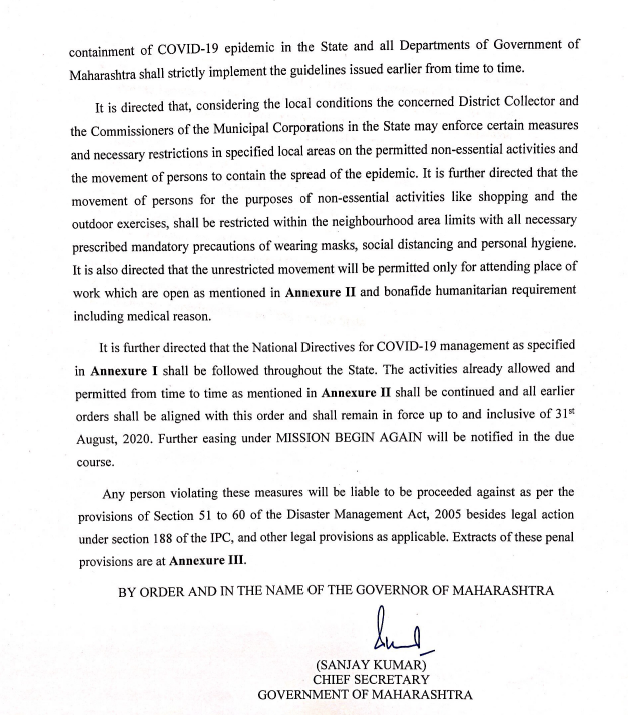 An official said, "The state government has allowed opening of malls, market complexes without theatres, food courts and restaurants between 9 AM and 7 PM 5 August onwards."
"Outdoor non-team sports like Golf courses, outdoor gymnastics, tennis, outdoor badminton and malkham will be allowed with physical distancing. Swimming pools will not be allowed to operate," the government said in a statement.
The order stated that the district collector concerned and municipal corporations in the state might enforce certain measures and necessary restrictions in specified local areas on the permitted non-essential activities and movement of people for the purpose of non-essential activities such as shopping and outdoor exercises.
However, the state government added that such movement of the people in outdoor activities would be restricted only till the neighbourhood areas provided all prescribed and mandatory social distancing norms are maintained.
Such restrictions on movement will not be exercised on those offering essential services like healthcare, sanitation, law-enforcement, etc.
In Maharashtra capital Mumbai, the situation is grim. Unlike other parts of the country where the middle class is suffering more, slum-dwellers show a higher rate of infection in India's financial capital.
Maharashtra leads India in COVID cases
Today is the 128th day since India implemented a nationwide lockdown, to help curb the novel coronavirus pandemic. So far, India has recorded 15,31,669 confirmed COVID-19 cases, including 34,193 deaths. Maharashtra, Tamil Nadu, Delhi and Gujarat have reported the highest number of cases.
However, infections are rising rapidly in states like Andhra Pradesh and Karnataka. Yet, India's recovery rate continues to rise and now stands at 64.5%. Globally, there have been over 1.68 crore confirmed cases of COVID-19. More than 6.59 lakh people have died so far.
Nationwide Unlock 3
Night curfew has been scrapped altogether and gyms and yoga institutes that are not in containment zones have been allowed to reopen in Unlock3 — the third phase of lifting of coronavirus-related restrictions across the country — declared by the government today. But restrictions remained in place in all other spheres that involve large gatherings – be it educational institutions, public parks or cinema halls.
The announcement came as India logged more than 15 lakh coronavirus cases and the daily spike in cases grew close to 50,000. Most states, especially those which have had a large spike in cases, have imposed lockdown on and off over the past month.
Guidelines
In the fresh Central guidelines issued today, the government said schools, colleges and educational institutions will remain shut till the end of August.
Metro rail operations, cinema halls, swimming pools, entertainment parks, theatres, bars, auditoriums and other places which involve large gatherings, will remain shut.
Lockdown remains in place across all containment zones, the extent of which will be decided by the states and Union Territories.
Independence Day functions can be held only by adopting strict protective measures like social distancing in place, the government said.
The government has advised the vulnerable sections of society — children below the age of 10 and seniors above the age of 65, pregnant women and those with chronic ailments including high blood pressure, diabetes, heart and kidney ailments — to stay home.