Two employees of Maharashtra State Road Transport Corporation (MSRTC) have committed suicide within a span of just 12 hours. One of them, in his suicide letter, has blamed the ST corporation and Uddhav Thackeray government for non-payment of dues, reduction in salaries and irregularities as the reason for taking such a drastic decision of giving away his life.
Manoj Chaudhary, a Jalgaon ST bus conductor committed suicide by hanging himself this morning. In his suicide note, he has blamed the ST corporation and Thackeray government for the non-payment and reduction in salary since last several months.
The victim's family claimed that he was not getting his salary 'properly' over the last three months which forced him to take the extreme step on 9 November. The family has claimed that the victim had blamed the Uddhav Thackeray government responsible for his death.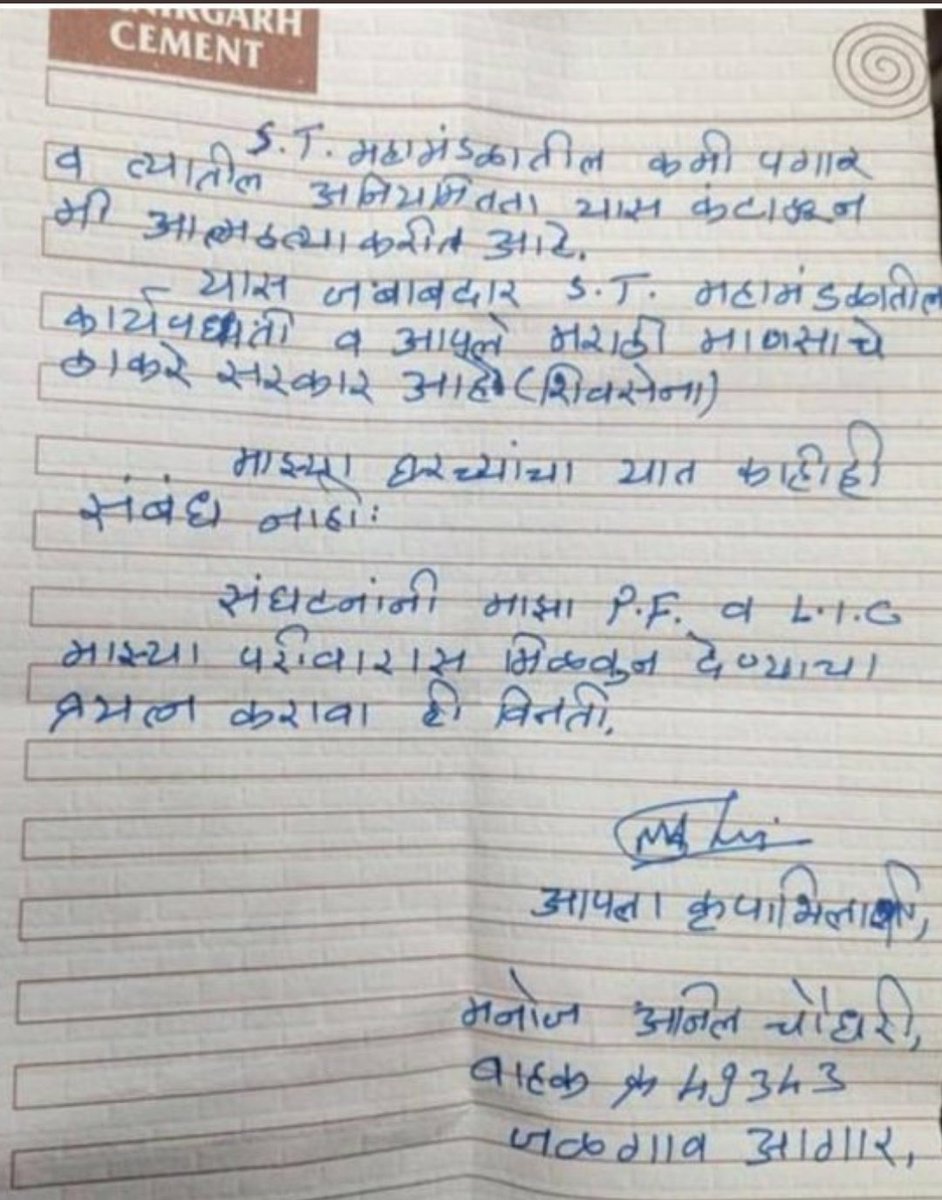 "My son used to work for the MSRTC and was posted at the Jalgaon depot. He was dealing with loans and used to get erratic and low salary and committed suicide because of it," victim's father Anil Choudhry said.
Over the last few months, the MSRTC has failed to provide salaries to its employees, leaving them frustrated. Last week, nearly one lakh MSRTC employees had stagged a protest in the state, demanding their pending salaries to be paid.
The Maharashtra government, meanwile, has said that it will soon pay the remaining salaries and wages, adding that the "economic condition of the state is bad" which is causing a delay.
"State Transport employees with pending salaries to be paid one month's salary today. Before Diwali, they will get 2 month's salary. They need not be disheartened and take extreme steps like suicide. Economic condition is bad now but we'll find a way," Maharashtra State Transport Minister said on 9 November.
The MSRTC has 17,500 buses in its fleet which make 56,756 trips every day to every nook and corner of Maharashtra. However, transport undertaking is incurring a loss of little less than Rs 2 crore per day over the last two months due to the ongoing coronavirus crisis, reported news agency.
Maharashtra government sanctions the purchase of luxury vehicles for its ministers
Even as the Maharashtra government struggled to pay the dues of the government employees and medical practitioners, it did not shy away from authorising the purchase of vehicles for its ministers. The approval from the Uddhav Thackeray government came at a time when the Maharashtra Treasury was in a bad shape in the wake of coronavirus induced lockdown in the state. However, disregarding the acute financial crisis suffered by thousands of government employees, whose salaries were either deferred or reduced, Uddhav Thackeray government sanctioned the purchase of 6 new luxury vehicles for their ministers.
Thackeray government floats e-tender worth Rs 5 crore on the PR campaign
It is notable to mention that amidst the coronavirus pandemic that had severely had the state in its grip, the Maha Vikas Aghadi government had floated an e-tender, inviting private advertising agencies to apply for managing the PR of the Chief Minister and the Government of Maharashtra. Notwithstanding the dismal cash position of the government's treasury, Chief Minister Uddhav Thackeray was all set to shell out a sum of over Rs 5 crores to promote his Maha Vikas Aghadi government.
According to a government resolution issued by CMO and the Directorate General of Information and Public Relations, the agencies will use audio-visual content, develop creatives and come up with campaigns to promote the government's image and policies. A major thrust will be on social media.
This entire PR exercise would cost the exchequer a hefty sum of Rs 5,43,60, 240, that is a little short of Rs 5 crore 50 lakhs.