The Ministry of Home Affairs (MHA) has issued its order to further extend the nationwide lockdown till 31 May to fight #COVID19, it tweeted on 17 May. "New guidelines have permitted considerable relaxations in #Lockdown4 restrictions," the ministry said, adding that the states would decide various zones, taking into consideration parameters shared by the union ministry.
With the third phase of the coronavirus COVID-19 lockdown coming to an end today, the fourth phase of lockdown was announced. Lockdown 4.0 begins tomorrow.
In his address to the nation on 12 May, Prime Minister Narendra Modi had indicated that Lockdown 4.0 would be different in nature, pointing out the advice he has received from medical experts that coronavirus is here to stay and, therefore, the economy could not be kept in hibernation sine die.
The prime minister had said, therefore, that the nation needed to work around the constraint, taking as many precautions as possible. However, the MHA guidelines released on Twitter, while delineating the old prohibitions like those on schools, malls, cinema halls, etc, are silent on economic activities in industrial units.
Shops will open with staggered timings. Any two adjacent customers of a shop must be separated by at least 2 yards.
Lockdown 4.0: What's new?
It's like decentralisation. Apparently to avoid differences with the states, the centre is allowing the provinces to now decide what areas will be classified as red, orange and green zones.
Further, within every zone, the district administration will identify containment and buffer areas.
However, the MHA will see to it that the state and local administrations are maintaining strict perimeter control within the containment zones, permitting no movement of persons except for medical emergencies and maintaining supply of essential goods and services.
Buffer zones are areas around each containment zone, where new cases are more likely to appear. In the buffer zones, the administration must exercise more caution.
Lockdown 4.0: Prohibitions on these activities to continue
Domestic and international air travel (flights for medical services exempted)
Metro rails
Schools, colleges, universities and other centres of education
Hospitality industry except when housing health workers
Cinema halls, theatres, auditoria, shopping malls, other commercial hubs, public swimming pools, public gymnasiums
Religious functions
Religious congregation
Visiting places of worship
Social, political, sports, entertainment, academic and cultural activities involving groups of people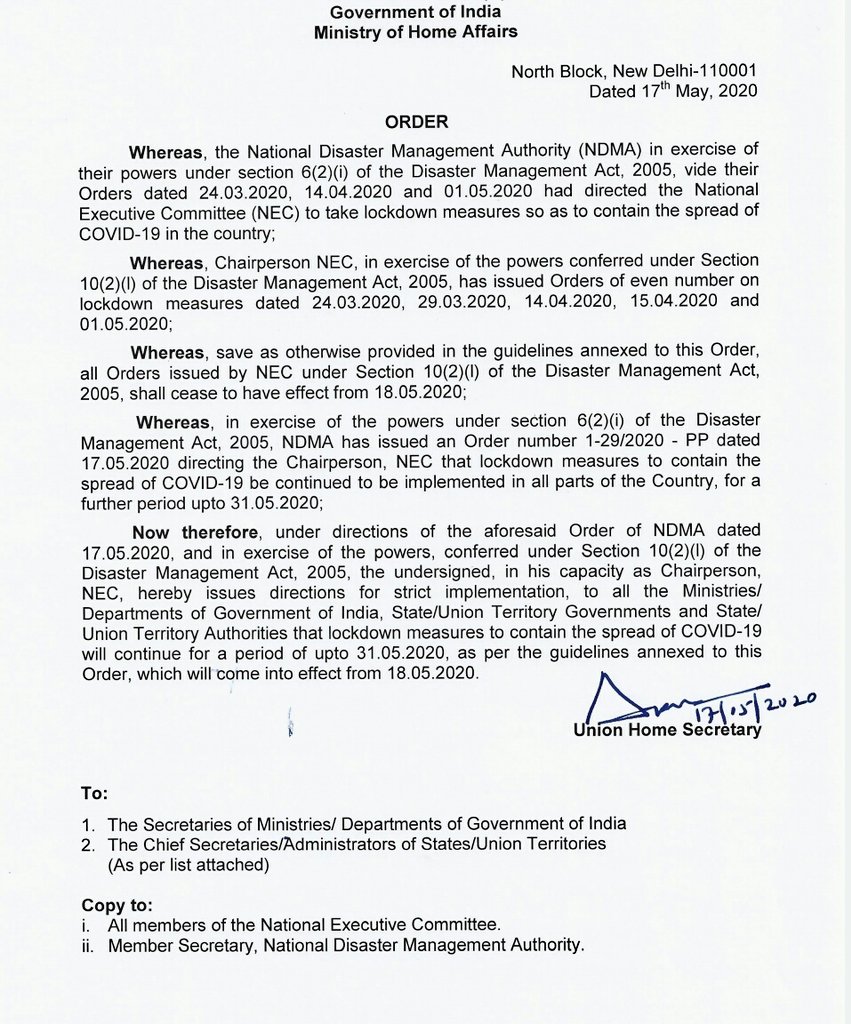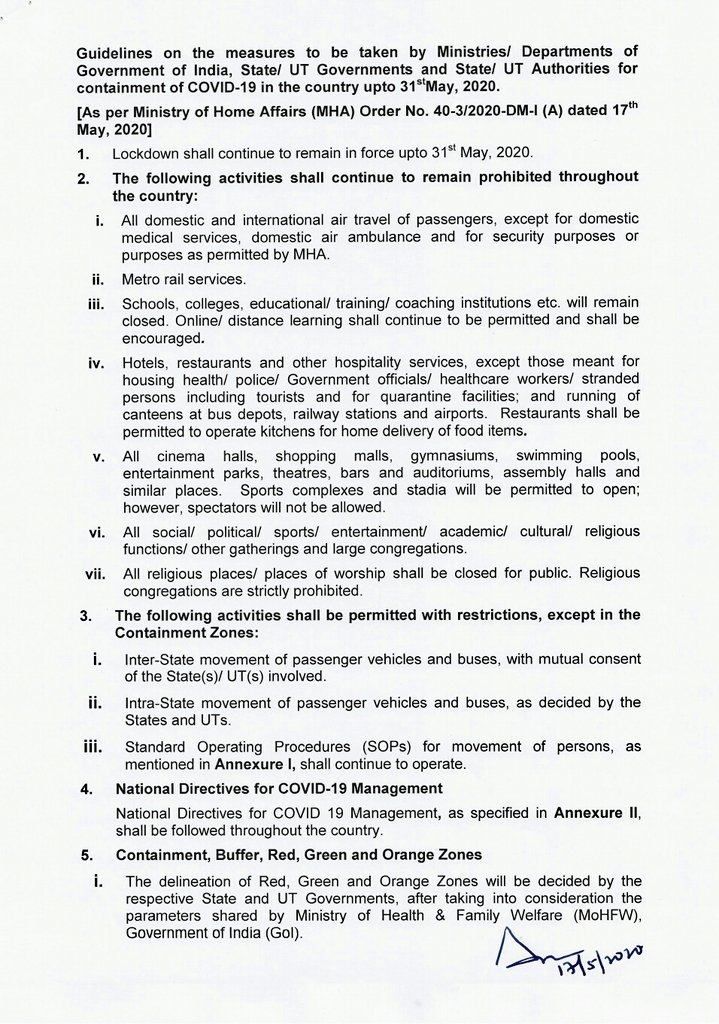 There were considerable relaxations on standalone shops outside containment zones in the third phase of lockdown, with liquor shops and several Shramik Special trains plying to ferry migrant workers to their respective home towns and villages.
Lockdown 4.0: Inter- & intra-state transportation allowed
In the Lockdown 4.0 guidelines released today, the government has relaxed the rules for transportation, which earlier needed a separate intervention by the centre, on the request of a state, during Lockdown 3.0.
People can travel within a state or between states, subject to the agreement between the states involved.
Individuals must follow a standard operating procedure (SOP) for movement. The SOPs were detailed in the government orders dated 2, 19 and 21 April and 1, 5 and 11 May.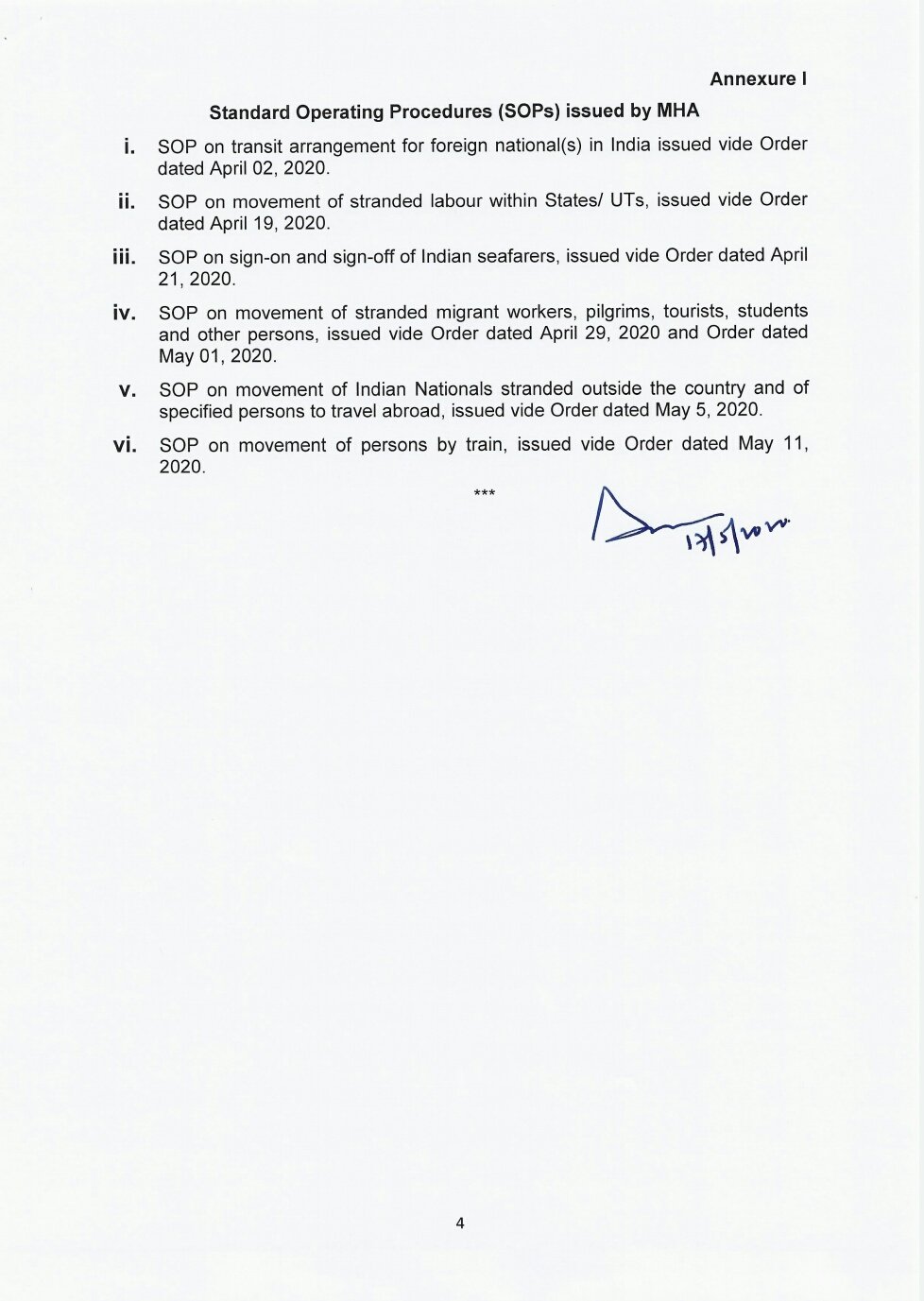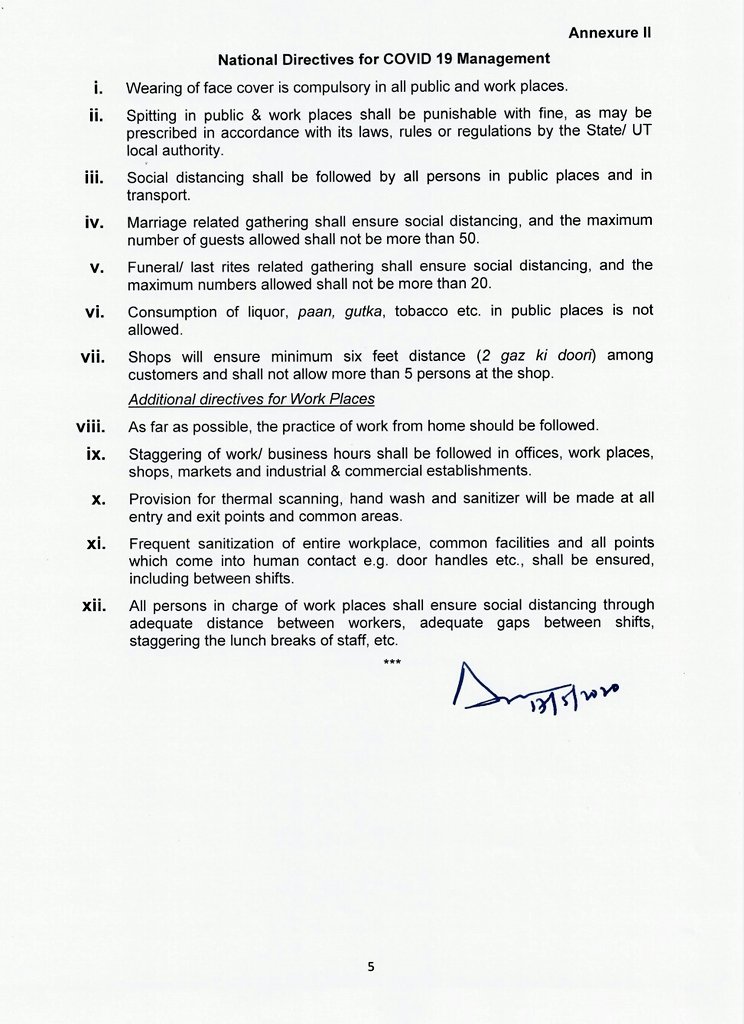 Punishments for violating social distancing norms
The third annexure in the MHA guidelines details the punishments that violators of social distancing during Lockdown 4.0 will be liable for under Sections 51 to 60 of the Disaster Management Act (DMA), 2005. The MHA sounds serious about the attacks on health workers and policemen, several instances of which have been reported in April, perpetrated by a certain community.
Read: Mumbai: Jihadi mob attacks police in Kurla; no arrest yet
It remains to be seen whether the police can muster enough courage to implement the guidelines and whether the state governments back their respective police forces when they try to enforce the law.
Read: Muslims of Indore, Bhopal assault cops, health workers
The punishment for such violations can be a year of imprisonment with or without a fine.
Read: Tablighis who misbehaved with doctors, nurses jailed
The offences range from making false claims to obtain relief to fraud in handling relief money. The law is strict on government employees misusing their offices for disaster management work as well.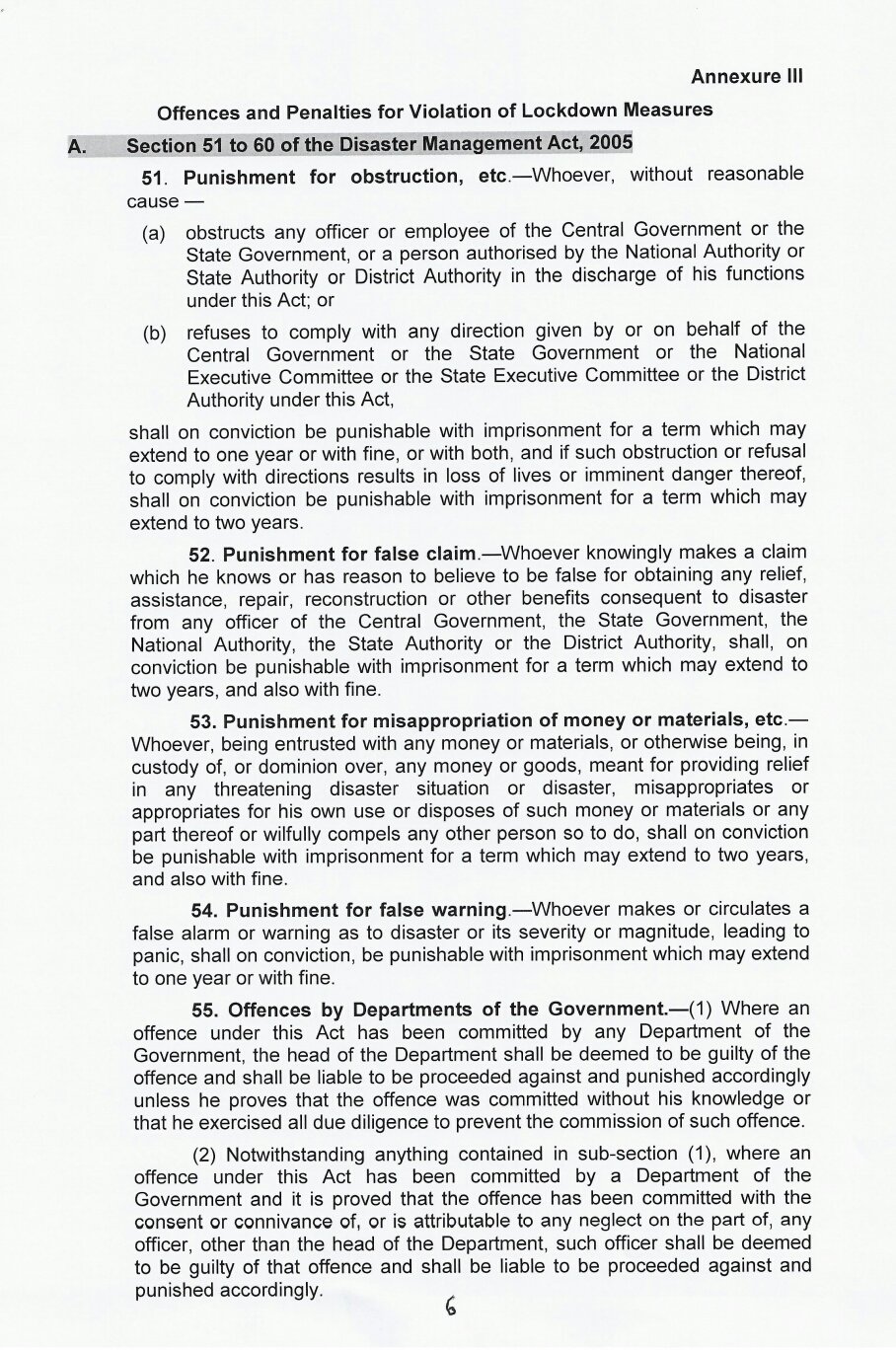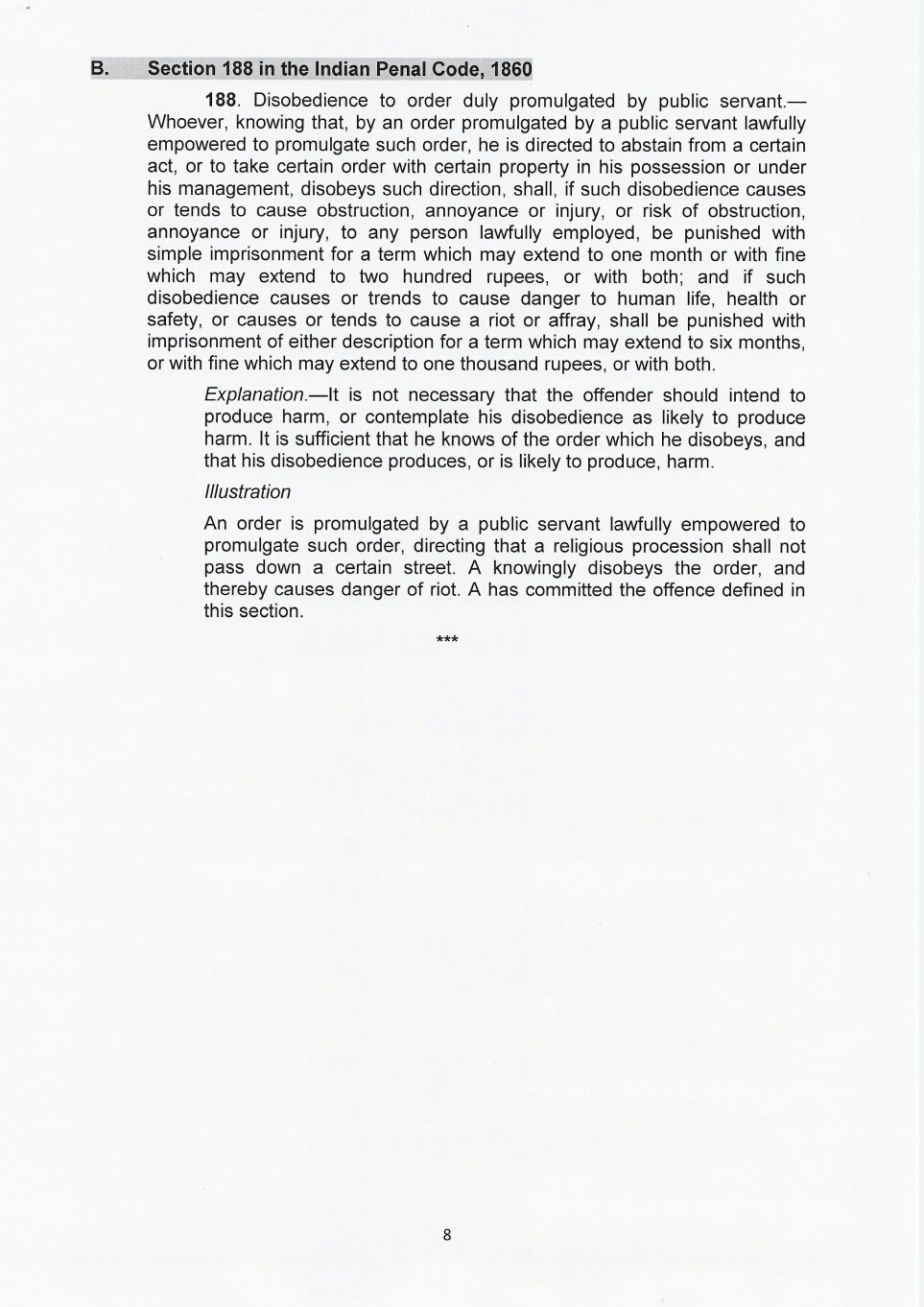 The DMA does not spare private companies involved in wrongdoings while executing relief work either.
Clarifications needed
In the case of factories, authorities will have to make necessary arrangements so that workers can be ferried to the respective workplaces. Offices and workplaces might get approval to operate with more employee strength. Earlier, industries had requested the Union Ministry of Home Affairs to raise the cap of workforce participation to 50% from the current 33%.
However, none of the above requests have been officially accepted till the time of filing of this report.
According to sources, 30 cities in 12 states, which account for over 80% of COVID cases, will continue to be restrained. Leading among these cities are Delhi, Kolkata, Howrah, Amritsar, Palghar, Bhopal, Hyderabad, Ahmedabad, Surat, Vadodara, Indore, Pune, Jaipur, Agra and Meerut.