Kazakhstan President Kassym-Jomart Tokayev said today that "20,000 bandits" had attacked the main city of Almaty, the epicentre of protests sparked by a fuel price hike. He said he had ordered security forces to "fire without warning", amid a violent crackdown on anti-government protests.
Police officers have reportedly been found beheaded in Kazakhstan.
Tokayev attributed the unrest to foreign-trained "terrorists", without corroborating evidence. He said, "Abroad there are calls for the two sides to hold negotiations for a peaceful resolution. What idiocy. What kind of negotiations can you have with criminals? We were dealing with armed and well-prepared bandits, both local and foreign. Bandits and terrorists, who should be destroyed. This will happen in the nearest time."
The interior ministry of Kazakhstan said, meanwhile, 26 "armed criminals" and 18 security officers had been killed so far in the civil war-like situation.
In a televised address, the president of Kazakhstan dismissed calls to hold talks with protesters as "nonsense", saying: "What kind of talks can we hold with criminals and murderers?"
"We had to deal with armed and well-prepared bandits, local as well as foreign. More precisely, with terrorists. So we have to destroy them, this will be done soon," Tokayev said.
Authorities said dozens of protesters had been killed in the clashes as well as 18 people from police and security forces. The figures may rise. More than 3,000 people have been detained, according to the interior ministry of Kazakhstan.
The protests, which are increasingly turning violent, began on 2 January over a sharp rise in prices for liquefied petroleum gas fuel. The protests began in the country's west but spread to Almaty and the capital Nur-Sultan.
Witnesses in Almaty on Thursday described scenes of chaos, with government buildings being stormed or set on fire and widespread looting. Many of those demonstrating said the protests had begun peacefully earlier in the week, but turned violent after a heavy-handed government response.
There were attempts to storm buildings in Almaty overnight and "dozens of attackers were liquidated," police spokeswoman Saltanat Azirbek said yesterday.
Dozens of protesters were killed in Kazakhstan in attacks on government buildings and at least a dozen officers died, including one who was found beheaded, authorities said on 6 January.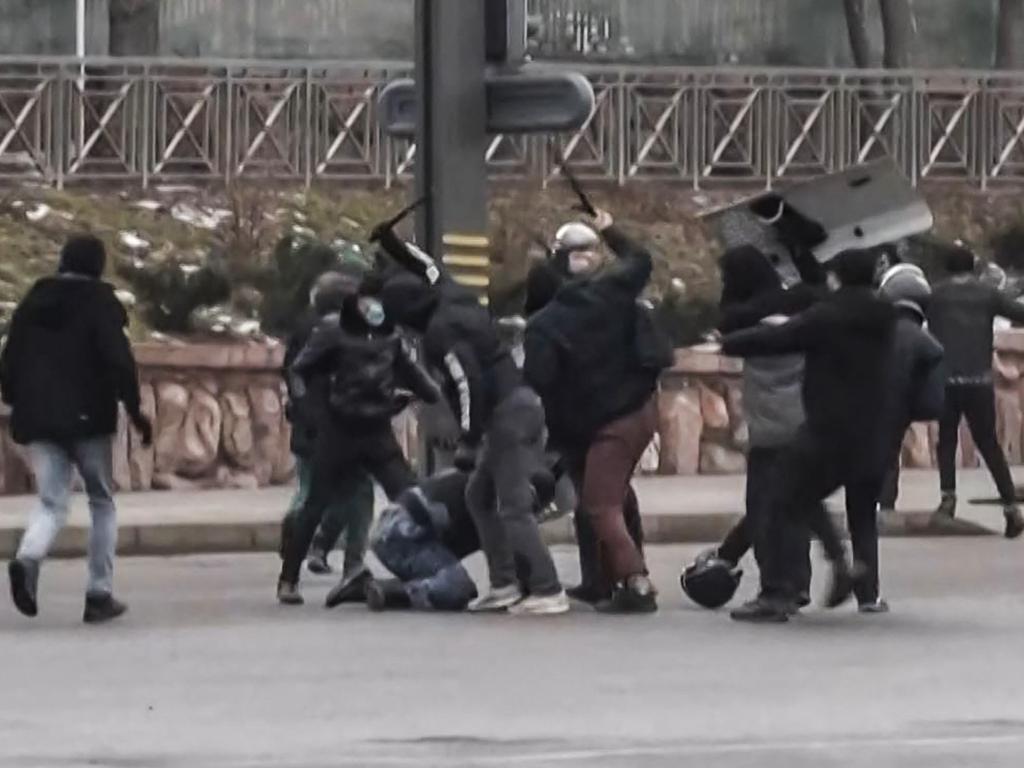 Why Kazakhstan is burning
For most of Kazakhstan's recent history, former President Nursultan Nazarbayev enjoyed unbridled power. That changed in 2019 when Nazarbayev, now 81, stepped aside and anointed his long-time ally Tokayev as his successor. In his capacity as head of the security council that oversees the military and security services, Nazarbayev continued to retain considerable sway over the country. Tokayev announced the day before yesterday that he was taking over from Nazarbayev as security council head.
Much of the anger displayed on the streets in recent days was directed not at Tokayev, but at Nazarbayev, who is still widely deemed the country's ultimate ruler. "Shal ket!" ("Old man, go") has become the main slogan.
"The people are tired of the cynical arrangement of the current government in Kazakhstan, where no one knows exactly where decisions are made, whether in the administration of President Tokayev or in the administration of the first President Nazarbayev," political analyst Arkady Dubnov told Euronews.
Tokayev's concession on that front — the removal of Nazarbayev as the head of the security council — is too little too late, Dubnov suggested. "People are demanding fundamental economic and political reforms. People are demanding representation in parliament, freedom of speech, and freedom of political party activity."
Will government fall?
In Kazakhstan, one can't say. This is not the first time the small breakaway country of the former Soviet Union has seen big demonstrations — in 2016, following the passage of contentious land law and again in 2019, after the contentious election that secured Tokayev's hold on power — but never anything of the present scale.
In an appeal to the people two days ago, Tokayev vowed to reform the Kazakh systems, hinting at political liberalisation. His negative comments at the end of the day, however, marred the mood.
A research consultant at the Carnegie Centre in Moscow, Temur Umarov said, "So far, the situation is not critical. It seems to me that what is happening will not be the end of the current political regime… Now we will just observe such bargaining between the protesters and the authorities. The authorities will make concessions, the protesters will say whether these concessions are enough for them or not," he explained.
"Reforms are 100% going to happen. We've been seeing them for the last few years. It is a trend that would have happened without the protests, but now it will accelerate and the authorities will go for them even more. But they (the reforms) are possible only if the protests do not cross a line after which the authorities believe that they are in a stalemate. And then we'll see violence," Umarov said.
As the street protests are so lacking in focus, at least for now, it is difficult to see how they will conclude, but even if they fail to topple the government, they might lead to deep transformation. What is not clear is whether the solution will be worse than the problem.