A notorious band of self-styled intellectuals are organising an event that they have named "Dismantling Global Hindutva" with the help of the woke administrations of 45 universities worldwide. The lead speaker in the group is surprisingly Anand Patwardhan, found to have enjoyed the favour of former Lok Sabha Speaker Sumitra Mahajan during her tenure.
Other speakers at the anti-Hindutva event to be held between 10 and 12 September will be Ayesha Kidwai (theoretical linguist at JNU), Banu Subramaniam (professor of women, gender and sexuality studies at the University of Massachusetts, Amherst), Bhanwar Meghwanshi (Scheduled Caste activist who revolted against the RSS), leftist blogger Christophe Jaffrelot, Kavita Krishnan [CPI(Maoist-Leninist)], Meena Kandasamy (fiction writer), Mohammad Junaid (Massachusetts College of Liberal Arts), Nandini Sunder (professor of sociology, Delhi School of Economics), Neha Dixit (journalist) and P Sivakami (writer and former IAS officer).
Patwardhan is an Indian documentary filmmaker who mostly raises leftist issues using the medium. Some of his films explore what he alleges to be the rise of religious fundamentalism, sectarianism and casteism in India while others investigate nuclear nationalism and unsustainable development.
While the docu-drama maker has had differences with both the UPA and NDA regimes, "then-Speaker Mahajan not only introduced him as a distinguished columnist in several newspapers but also appointed his brother in the programming department of Lok Sabha TV that also had two other staunch anti-Hindu staff members," a former officer of the state-owned broadcaster told Sirf News.
The cosponsors of the event include various departments and centres at Northwestern University, UC Berkeley, University of Chicago, University of Columbia, Harvard University, University of Pennsylvania, Princeton University and Stanford University.
According to this group,
This rise of militant Hindu groups in India and the corresponding escalation of violence against religious minorities and other marginalized communities is well documented, including by global media. International attention has also been directed at the exclusionary Citizenship Amendment Act of 2019 pushed through by the ruling Hindutva-aligned Bharatiya Janata Party (BJP), the aggressive crackdown on all forms of democratic dissent, and the intimidation and imprisonment of journalists, human rights groups and activists working to empower marginalized caste and tribal communities. This overall erosion of democratic practices and freedoms in India has been noted by global research networks. There has also been some useful scholarship, journalism and community-based activism on the links between Hindutva and racism and caste-ism. We need now to develop a comprehensive understanding of Hindutva and its global implications through its different iterations in the large Indian Diaspora and its potential for building links with other supremacist ideologies, especially as Hindutva groups expand their influence well beyond India.

The BJP and its various affiliate groups have been adept at building connections with the vast Hindu diaspora, particularly in the United States, the United Kingdom, and Canada. This reach has contributed materially and ideologically to the strengthening of Hindutva in India. Moreover even as such groups have leveraged racialized minority protections in, for instance, the US, they have continued to support caste-discriminatory practices and have found common cause with far-right and white supremacist groups in Europe and the US.

It is also important to recognize the economic turmoil unleashed by the authoritarian economic policies and policy-making framework of the BJP government, including the failed demonetization policies and the ill-conceived agricultural reform policies. Such erratic and draconian policymaking has led to stalled economic growth, dangerous declines in basic living standards, and loss of protections for the most vulnerable labour and agricultural communities in India.

This conference will convene panels on a variety of interlinked topics that address the threat and power of Hindutva. Scholars, journalists, and activists will examine the historical development of Hindutva, the fascist dimensions of the ideology, its alignment with other supremacist movements and define all that is at stake across a range of political, socio-cultural, and economic issues. We also aim for the conference to be a space for examining the history of dissent and resistance against Hindutva. Dalit and Feminist traditions have long resisted the singular narrative of Hinduism adopted by Hindu Supremacists. A broader coalition of activists from progressive communities have (sic) mobilized to enable both material and ideological divestment from Hindutva. Drawing inspiration from such collectivities, we expect to develop resources for anti-Hindutva pedagogy and organizing in educational and cultural institutions everywhere.
The group of activists named above were seen protesting against the CAA with an obscene poster featuring "Om", the sacred chant of Hinduism that invokes Brahma, Vishnu and Shiva together.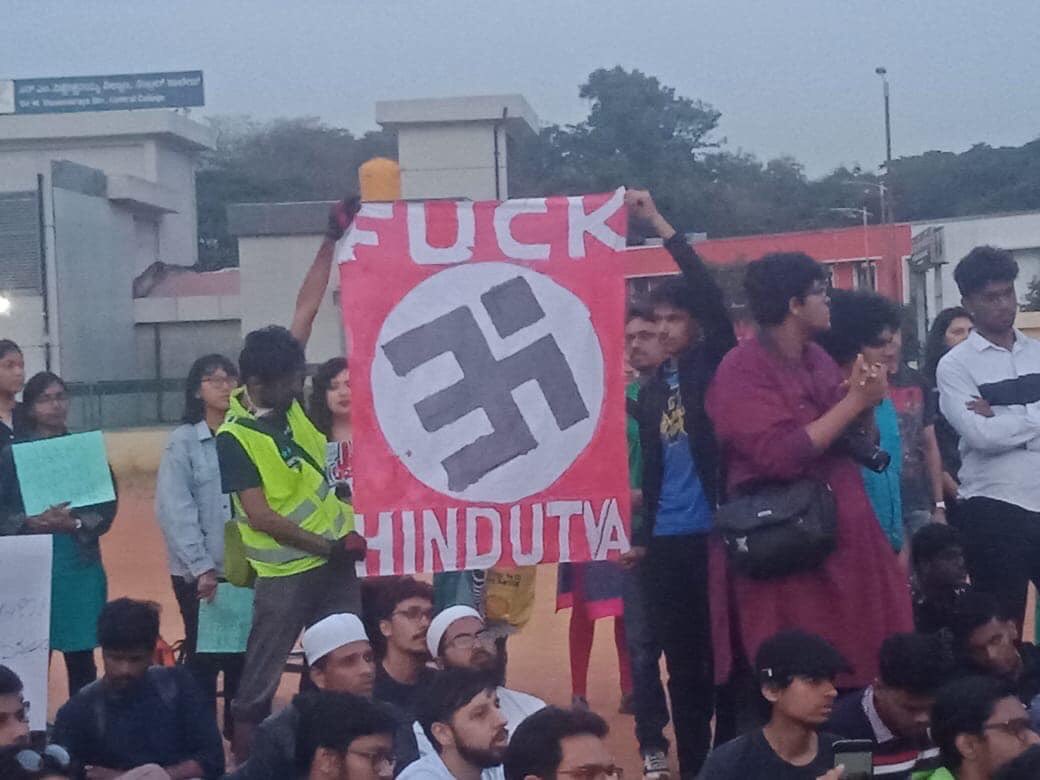 Seeing the suspects use "Hindutva" as a cover to attack symbols, principles, practices and adherents of Hindu Dharma, indigenous thinkers have issued an appeal that goes:
Send E-Mail through One-Click
They have noted that the sponsorship of the conference by more than 40 universities, as claimed by the organisers, is particularly "disturbing". "This is bound to create a situation where Hindu students are going face increasing hate, bullying, discrimination and even outright violence for simply being adherents of most ancient religion in the world," one of the concerned citizens noted.
"This needs to stop right now," said another concerned citizen, adding, "Universities in the US should be a place for academic inquiry, freedom and a place of learning about world cultures."
A large group of concerned citizens wrote to Sirf News, saying, "We request you to use this link and send your concerns to the universities that are supporting this conference that could dehumanize Hindus, cause violence against Hindu communities on campus and elsewhere."