The Jammu and Kashmir government on Friday issued orders revoking the detention of former Chief Minister Farooq Abdullah with immediate effect, Rohit Kansal, Principal Secretary Planning, Jammu and Kashmir, said in a tweet.
Abdullah had been detained for over seven months. He was earlier detained under the Jammu and Kashmir Public Safety Act (PSA). Ironically, this law was made by his father Sheikh Abdullah.
The government had detailed other leaders including the son of Farooq and former Jammu and Kashmir Chief Minister Omar Abdullah on 5 August when the government ended special status to Jammu and Kashmir under Article 370 and imposed massive restrictions.

He was charged with "disturbing public order" under the law, which means shorter detention of three months.
This was the first time that the PSA, used against terrorists, separatists or stone-throwers, was used on a mainstream politician, especially an MP and a three-time Chief Minister.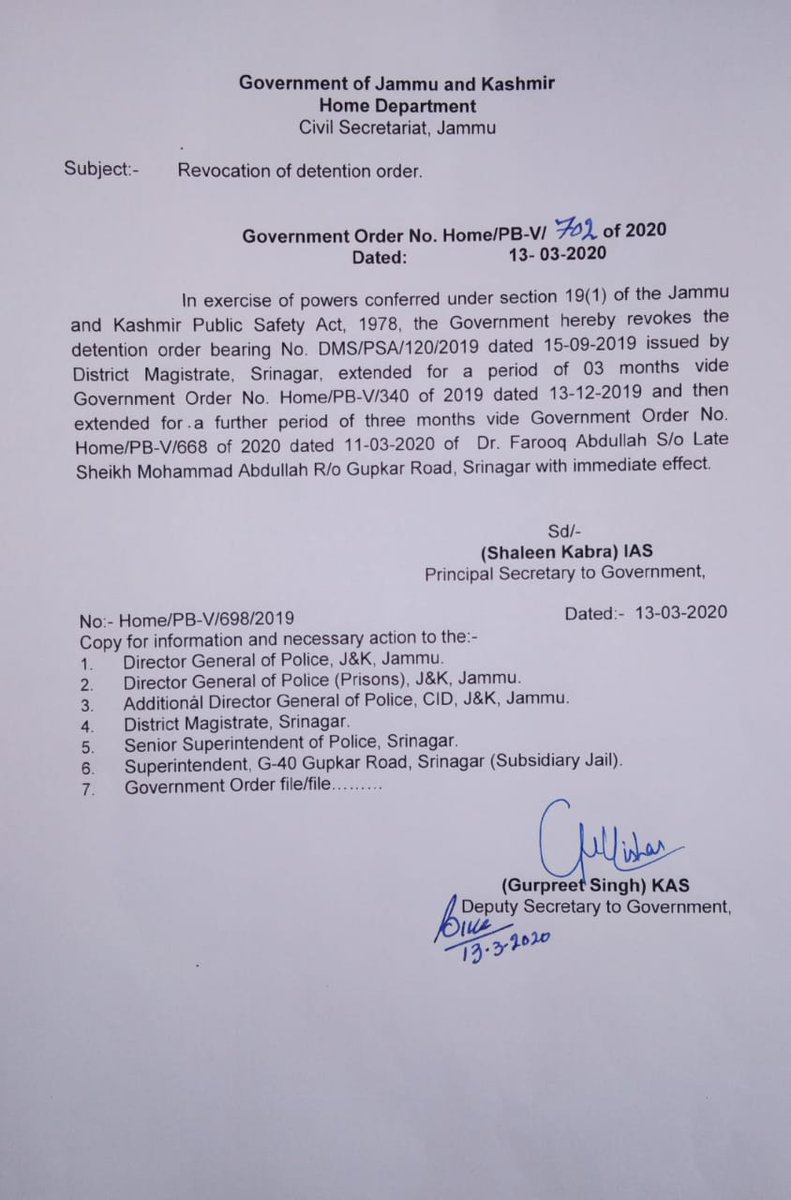 Days ago, eight opposition parties had sent a joint resolution to the BJP-led government, demanding the immediate release of all political detainees in Kashmir, especially the three former Chief Ministers — Farooq and Omar Abdullah and Mehbooba Mufti.
Along with the detention of Farooq Abdullah, the union government had taken utmost care to ensure that the revocation of Article 370 did not push Jammu and Kashmir to chaos. Thousands of army and paramilitary personnel were deployed in what was still a state before the parliament virtually turned the separatist article of the constitution defunct.
Farooq Abdullah was allowed to meet people, including members and supporters of his party, the National Conference, off and on, during the period of his house arrest.
History of the law under which Farooq was detained
The PSA had been enacted in the 1970s to prevent smuggling of timber in Jammu and Kashmir, but those involved in such crimes were easily released after a brief detention. Sheikh Abdullah, the former chief minister and father of Farooq Abdullah, had brought in the Act as a deterrent against timber smugglers.
This law initially provided for imprisonment of anyone above the age of 16 for up to two years without a trial. In 2011, the minimum age was increased from 16 to 18. In recent decades, it was used against terrorists, separatists and stone-pelters. More than 550 people were detained under the PSA during protests in the Valley following the 2016 killing of Hizbul Mujahideen terrorist Burhan Wani.
When militancy had erupted in the state in the early 1990s, the PSA had come in handy for the police and security forces. In 1990, when the then Union Home Minister, Mufti Mohammad Sayeed, enforced the controversial Armed Forces (Special Powers) Act in the state, the PSA was used extensively to book people.
The custody under the PSA is periodically reviewed by an official committee and can, of course, be challenged in the high court.