Governor Anandiben Patel and Chief Minister Yogi Adiyanath welcomed actors dressed as deities this evening in Ayodhya and bowed in obeisance before initiating the grand coronation at the Ram Katha Park amid Vedic chants.
A helicopter themed on Pushpaka Vimana had earlier landed on the Ram Katha Park helipad in Ayodhya this noon, raising a minor dust bowl, before doors opened to the epic realm of Treta Yuga, with characters dressed as Lord Rama, Sita, Lakshmana and Hanuman alighting after a 14-year exile to reverberating chants of 'Jai Shri Ram'.
A grand procession with 11 tableaux from Saket College covered 5 km before culminating at Naya Ghat, ushering the fourth Deepotsav in Ayodhya.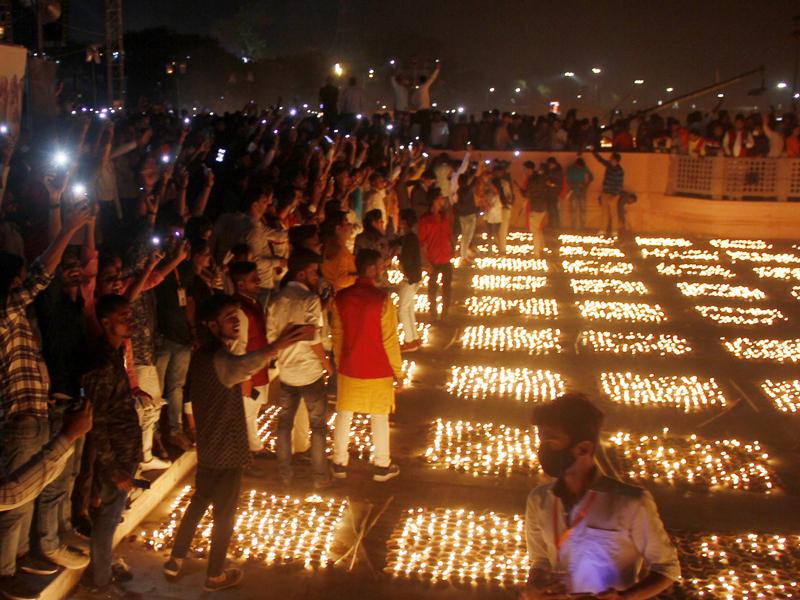 The administration fortified the town and residents mostly stayed indoors, with all routes leading to Sarayu ghats barricaded. As evening set in, the stage moved from the Ram Katha Park to the banks of the Sarayu, where volunteers lit over 6 lakh earthen lamps simultaneously, with 11,000 earthen lamps at Ramjanmabhoomi, where the chief minister offered prayers and lit the first lamp at noon after reaching Ayodhya.
Ministers, members of the Ram Temple trust and top bureaucrats accompanied the chief minister.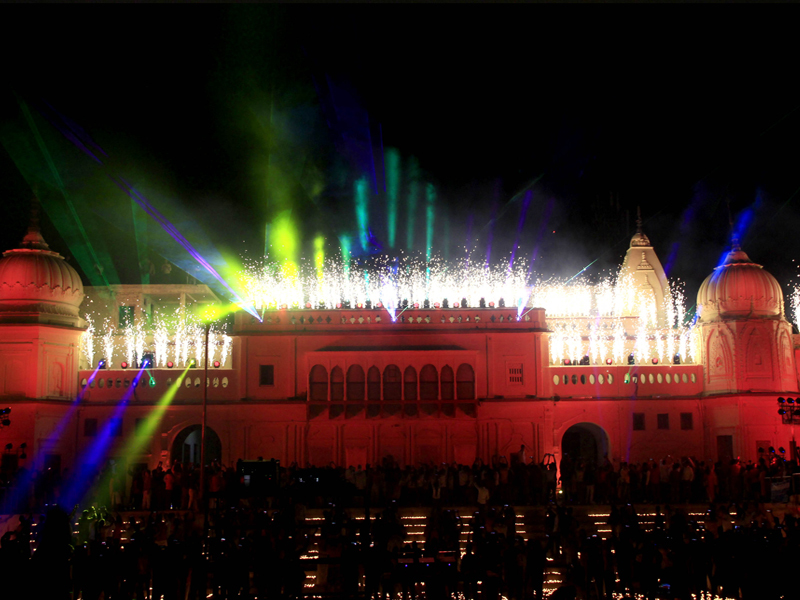 While Ram Ki Paidi on Sarayu has been witness to a visual splendour of millions of diyas (earthen lamps) lit for past four years, this year was a historic Deepotsava for Ayodhya.
Ramjanmabhoomi was illuminated for the first time in recent memory after shedding its disputed tag. The Supreme Court had last year in November mandated construction of the Ram temple.
For three decades after the Babri demolition, the chief priest at the makeshift temple Acharya Satyendra Das used to light 51 lamps and offer prayers with four junior priests.
"Festivity would be muted at Ramjanmabhoomi and we did a small puja at Ram Lalla's feet after taking the nod of the then Faizabad receiver-commissioner since the site was disputed," said Acharya Das.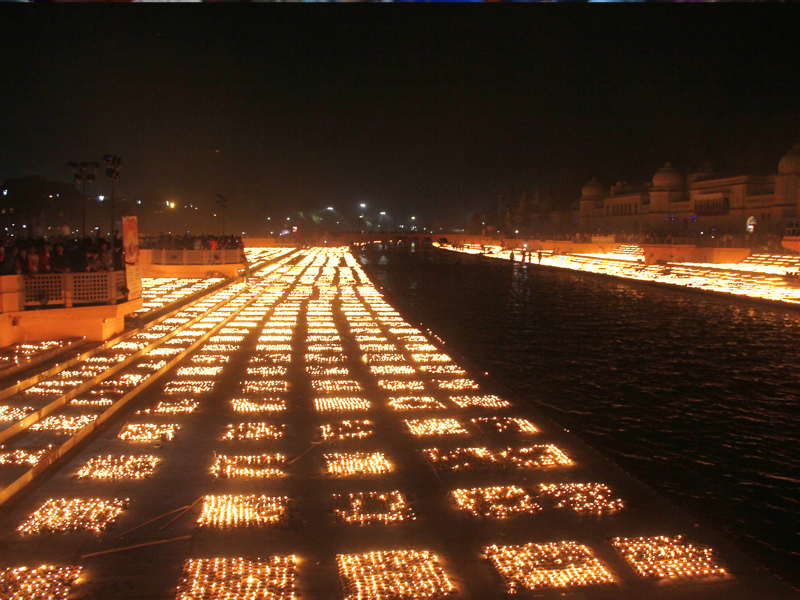 This year was an exception, with members of the temple trust and security personnel deployed at Ramjanmabhoomi lighting 11,000 lamps. Having addressed a gathering of 1,000 guests at Ram Katha Park, Yogi reached Ram ki Paidi and performed Sarayu aarti and lit a diya.
Within seconds, volunteers lit up over 6 lakh lamps, creating a world record.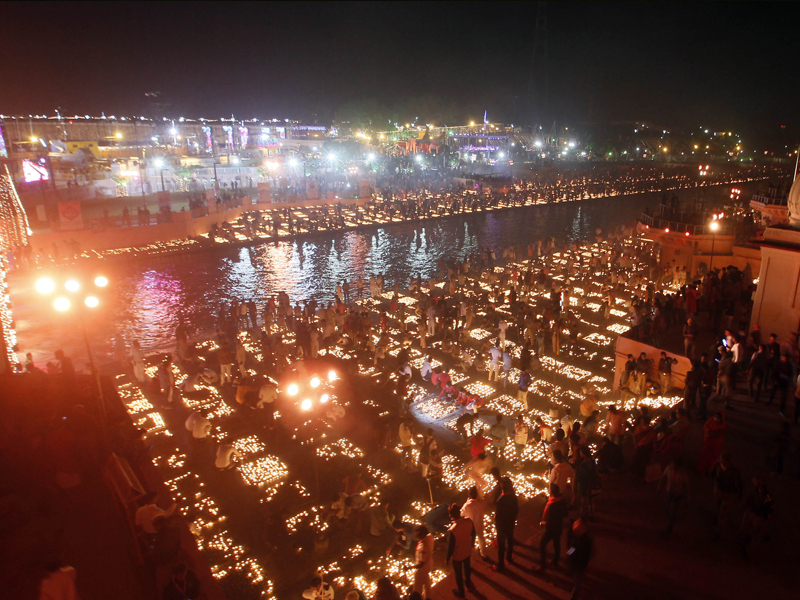 Another big draw of the Deepotsav was the dance performance on Ramayana themes by folk artists from Bundelkhand, Braj, Awadh and Poorvanchal.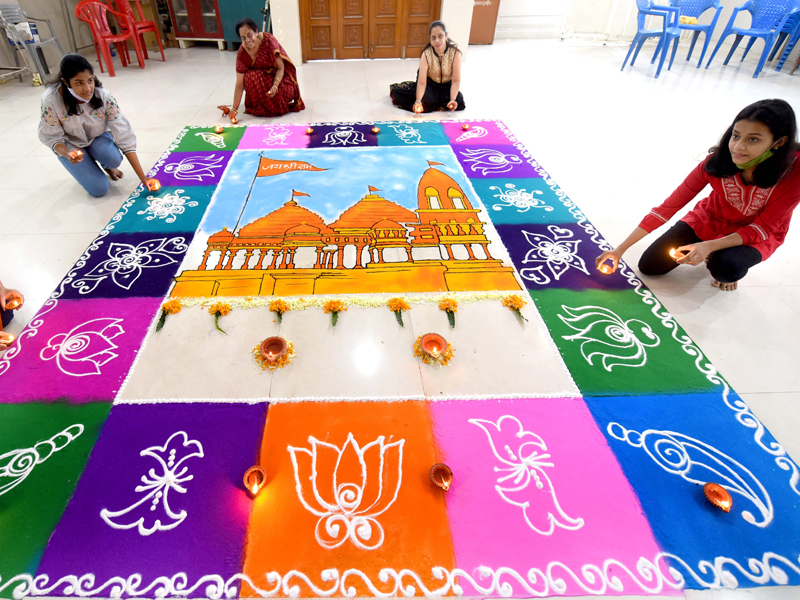 Member of the Jhansi troupe Vishal said, "We rehearsed for over two weeks before arriving in Ayodhya. We are excited that we are performing on the streets of Ayodhya, the city of Lord Rama, and we hope this tradition would never stop."